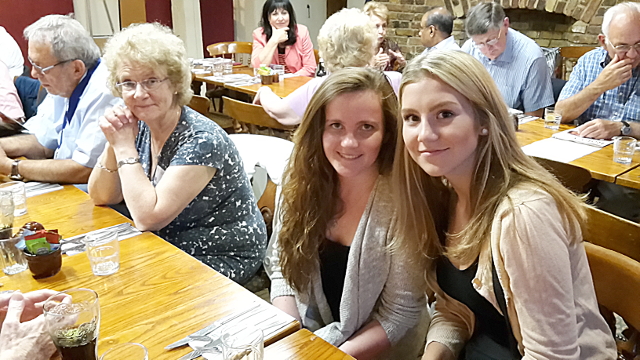 On Wednesday 12 August 2015 we had another business meeting, but our business was lightened with some visitors to our club. As well as our regular visitor 'Siva', we had a visit from a past mayor of Harrow, Mrinal Choudhury who is also President Elect at the Rotary Club of Edgware and Stanmore.
Featured in our photo above however were two younger visitors – Aisling (left) and Kate (right). Aisling had been to the Czech Republic for a short term exchange at Kate's family, and Kate was now here in England with Aisling's family for the second part of the exchange.
Members of the Club also celebrated the fact that the whole of Africa had not recorded a single new case of polio for a full twelve months. However the good news was tempered with the sad news of the death of Anne Marie Hampton (daughter of one of our members) and the resignation of our member Arnold owing to continued ill health. Arnold does hope to join the ranks of the Friends of the Rotary Club of Northwick Park.
On a brighter note, we are expecting about 50 people at our International Lunch on 16 August, and 11 people will be going to Italy to visit our Contact Club, Sacile Centenario, in September. We then had detailed reports on the Club's financial position, on Public Relations, and the progress being made with our web site!  The Foundation report confirmed the purchase of crocuses, and the date of the Bagel Brunch as 15 November 2015. Local Schools will be contacted with regard to our competitions, and there is a new plan for our garden in Northwick Park Hospital. There was nothing to report on Fundraising, and the supermarkets will be contacted concerning Christmas Collections in the near future.
Lastly, all members of the public and all Rotarians are welcome to come and visit our stand at the Pinner Village Show on Saturday 12 September 2015 in the Pinner Memorial Park.