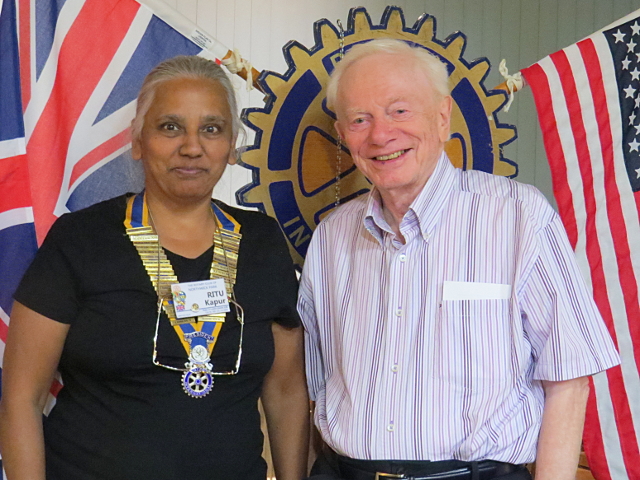 At our meeting on 5 August 2015, rather than have a speaker we had a discussion on the confusion in Calais, Northern France led by George Myrants – see photo above. Many of the members of the Club either are immigrants to the United Kingdom, or are descendants of recent immigrants.
There are three terms that are being used interchangeably by the media, but refer to different entities – Immigrants, Refugees and Asylum Seekers. A large number of immigrants come to the UK each year – over 200,000 in 2014 according to some sources. However, the people living rough outside the town of Calais are trying to make an illegal entry into the UK. They are hoping that once they are here, they can disappear from view, joining the black economy and then send money back home, or they can depend on the state. The UK Government has sent manpower and trained police dogs to support the border staff working in and around Calais.
The criminal aspect of the trafficking of people illegally from various points of departure was discussed. The poverty created by the illegal trafficking was also mentioned. The criminal activities taking place around Calais also brought forth strong views. Against those views was the determination of Rotarians to serve all communities in the world and to alleviate suffering, even if there were consequential costs. The members were not able to say whether those living rough outside Calais were Asylum Seekers, Refugees, or Economic Migrants, although they thought that many of the people were the consequences of illegal human trafficking. Immigration should continue – illegal entry should not.
On a more fragrant note, the Club has agreed to sponsor a free-standing planter outside the local shops. Also a party of eleven will be going to EXPO 2015 in Milan.