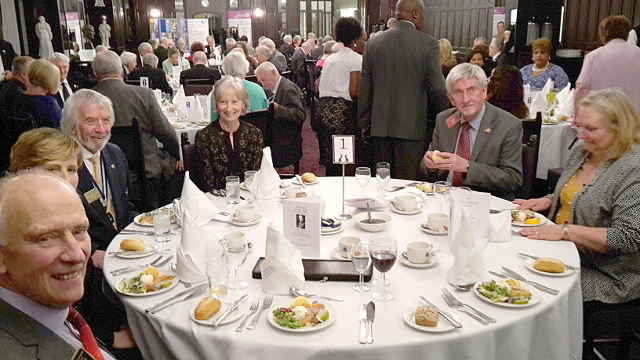 The Club was represented at the Robert Hunter "Founder's" Dinner held at the Imperial Hotel in Central London on Monday 9 March 2015.
The purpose of the evening was to recognise the contribution to the Rotary International movement of its founder, Paul Percy Harris, a lawyer in Chicago who started the first Club meeting in 1905 in order to widen his circle of friends, and to provide a business networking opportunity. Also recognised was the contribution of our late Past District Governor, Robert Hunter, who served as our leader in London in 2003-2004, and had run this annual event for many years.
District Governor David Palmer (left in photo above) spoke about the contribution both of these leaders had made, and they were fondly remembered. With Robert's widow and daughter present in the audience, having travelled down from Edinburgh specially for the dinner, it was an evening for reflection and for celebration.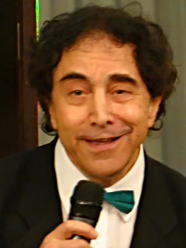 After the speeches we were entertained by David Capri, a singer with an interest in audience participation. After entertaining use with medleys of songs that we all knew the words to, he selected three male Rotarians to volunteer for the next part of the entertainment. We were all in hysterics at his attempt to school three Rotarians as José Carreras, Placido Domingo and Luciano Pavarotti, and with their attempts at Italian and Neopolitan arias as performed by the Three Tenors!  We finished with a chorus in which everyone sang a hymn to ice cream to the tune of "O Sole Mio".
A great night out, we cannot wait for the event to be repeated next year!