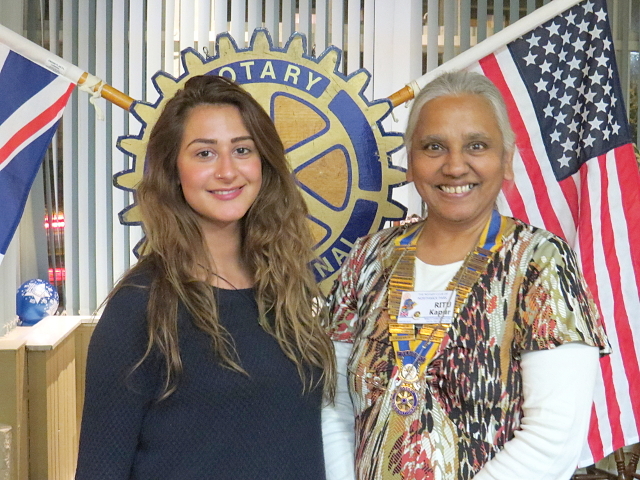 Our speaker on Wednesday 04 November 2015 was Daniela Pulido.  Daniela had been sponsored by the Club to visit Bolivia's capital city, La Paz (meaning Peace) on a programme run by the International Citizen Service (www.volunteerics.org).
The International Citizen Service (ICS) programme comes in three parts.  The first part is fundraising (Daniela raised £850), then comes the International Placement, and lastly comes the Action at Home.  With a degree in International Relations, Daniela was a little cautious when she learnt that her International Placement would be working on a Noise Polution Project called "No Honk Day" in Bolivia. However, she had no need to worry as the project taxed her International Relationship skills and knowledge to the maximum.  One of her tasks was to organise a group of children, from disadvantaged backgrounds, who dressed up as zebras, and helped publicise the correct way to use "Zebra Crossings".  The children also received a series of workshops from the volunteers on education, literacy, human rights, UK Culture and public transport.
Daniela also travelled to Alalay where she confronted young children who hoped to grow up as gangsters or terrorists. Yoga in the school playground proved an effective diversion for the youngsters and their tough attitudes.  She also visited a local hospital – in crisis – where there is no free care, and doctors and nurses leave the hospital to work in the private sector and make more money.  The final event in Bolivia was an exhibition where all the ICS teams in Bolivia got together and exhibited their work.
For her Action at Home, Daniela has set up her own charity, working with refugees, and has found her way through the rigours of setting up a Charitable Incorporated Organisation (CIO).
Well done Daniela, and thank you for bringing your friend Nina along with you.  You are both an inspiration to us all!