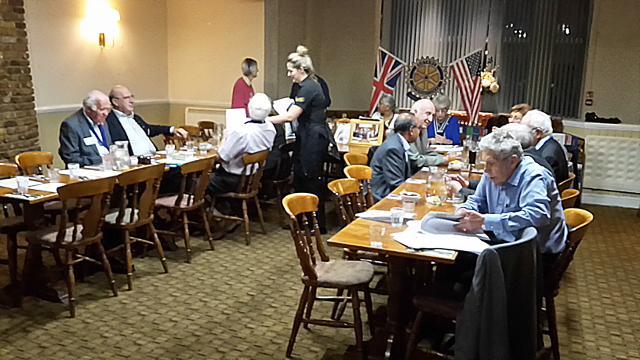 Our meeting on 11 November 2015, Armistice Day, was a business meeting. Owing to a variety of other events and commitments, only about half of the members were present. We did have a visitor however, Malcolm, from the Rotary Club of Greenford.
There was a substantial list of visits to report as well as the PR Workshop and the Inner Wheel Quiz and Remembrance Sunday at the Civic Centre in Harrow. Also our planter has arrived (see photos below), and Doug is off to an event in Paignton this weekend.  There was also a long letter from our former member Mike.
At present our meetings start with a Grace, followed by one or more of the clauses of the "Object of Rotary".  A proposal to remove the Grace and the Object from our meetings was not adopted on the grounds that they serve to formally mark the start of the meeting.  Also, the idea that young people reject traditions seemed not to be based on fact.  There was a proposal to start the meetings earlier on the grounds that members were already arriving well before the start time, and a late finish at work did not seem to be a problem.  A decision was deferred on the grounds that half the Club was away, and there had been no written notice of the proposal to change our start time.  The question will come up again at the Special General Meeting on 2 December 2015.
Members were interested in helping out with the sorting of the humanitarian aid at the Felsted Warehouse and a day trip would be organised on a Tuesday, or Thursday or Saturday.  There was much talk about the charity collections at Christmas, and a schedule is starting to emerge.  There was also a planning discussion for our Blood Pressure Days on 28 and 29 November at the Harrow Masonic Centre's Winter Wonderland.  And that was another Business Meeting completed!