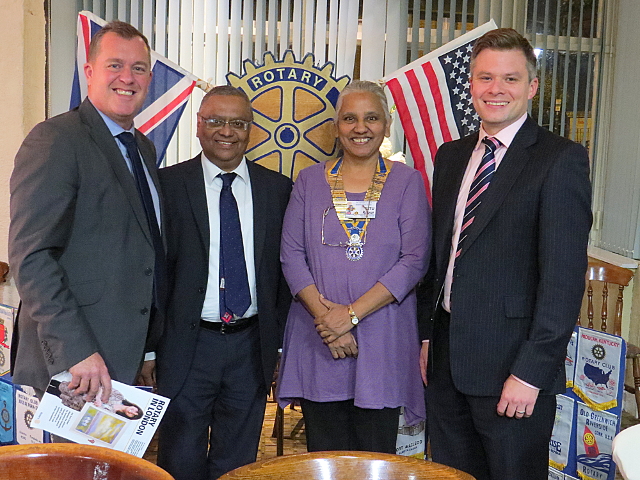 Our meeting on 18 November 2015 was not devoted to an explanation of the hierarchy of the Saints in heaven, but was devoted to an explanation of the operation of the wealth management company, "St James's Place".
Pictured above, with President Ritu, are (left to right) Rob Theobald, Arvind Patel and James Bailey.  Rob and James are staff members at St James's Place and Arvind is a St James's Place Partner.
St James's Place engages with a number of wealth management funds and uses a board of experts to rank and rate the funds' performance.  One distinguishing feature is their policy of following fund managers rather than fund companies, allowing them to move as the successful fund managers move from company to company.
The managers' funds and their ratings are then made available to the Partners, who undertake the face to face advice for investors.  The Partners take their income from the profits earned by their clients rather than the capital invested.
An interesting and intriguing proposition explained clearly with a set of Powerpoint slides!  Arvind has very kindly agreed to sponsor our District Conference at Eastbourne in 2016.