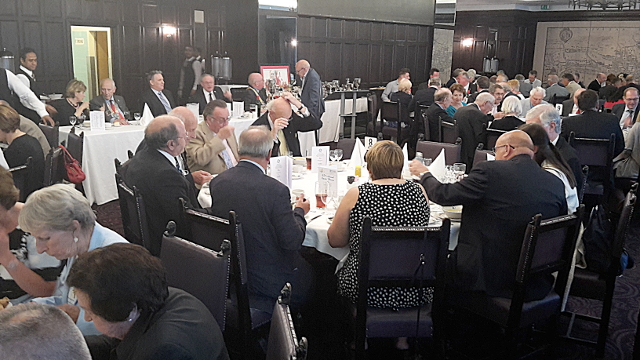 Some 126 Rotarians sat down to the 53rd District Sports Dinner at the Imperial Hotel in central London on the evening of 18 June 2015. Their purpose was to celebrate the District Sports Competitions and winners for the Rotary Year 2014-2015.
The evening started with our District Sports Chairman Roger giving a talk on his experiences over the past 13 years as the Committee Chairman. He recalled the first District Sports Dinner he had organised when he fell prey to a practical joke played on him by our current District Governor!
We also heard of a Golf Challenge undertaken by Scott Maclachlan, in which he had played 100 holes in a single day! There was then an auction of a framed poster of Alf Ramsey and the England football team from 1966 which had won the World Cup. All those in the poster had signed it, and it raised over £1,000.00 for The Rotary Foundation.
The main speaker was the Warwickshire and England Cricketer Dermot Reeve, who demonstrated his skill at impersonating Richie Benaud, Imran Khan, Alan Lamb and Brian Johnston, amongst others. Born in Hong Kong, Dermot had scored over 13,000 runs and taken more than 700 wickets during his first class cricket career.
At the end of the evening, Roger was presented with a second sapphire for his Paul Harris Fellowship by District Governor David, but only after he had received a cup – a white china cup with a large "R" on it. We all wish his successor Tom a long and rewarding tenure in the job.