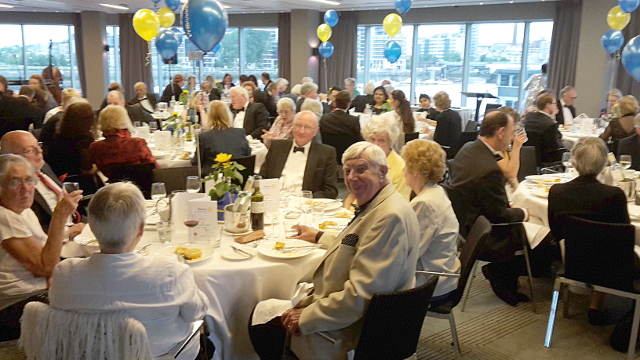 On Sunday 14 June 2015, the Rotary Club of Battersea Park celebrated its 60th Birthday at the Crowne Plaza Hotel by the Plaza Heliport.
Present at the party were four members of the their Contact Club in Holland, the Rotary Club of Amsterdam Halfweg, two of whom had just returned from the Ukraine, and had lots of news about how things were progressing there. Greetings were also received from their Contact Club in India, the Rotary Club of Bombay Central.
President Gill gave an excellent speech on how the Club had developed over the years, making many humorous observations. The projects featured the Ranfurly Library now known as Book Aid International, and of course full credit was given to the Club's Christmas Day Lunch, which now provides a meal for more than 600 on Christmas Day.
The Dutch Rotarians also bought a special present – a presentation case of Oranjebitter – the tipple of choice when toasting the monarch. Today, Holland has a King again, but they hoped that Battersea Park would use it for toasting our Queen.
With celebrities arriving and leaving during the meal from the helipads next door, this was a most memorable and enjoyable evening. Well done, Battersea Park and happy birthday!