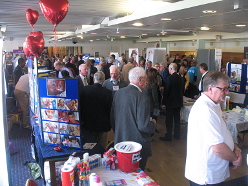 District Governor David Palmer was unsure how to name his District Conference in Eastbourne this year, we learnt during his key-note address to an audience estimated at 460 Rotarians. The atmosphere at the event however had provided him with the answer – the exception friendship he had witnessed at the event led him to call it The Friendship Conference.
At our District Conference, there is always a Rotary Showcase – formerly called a House of Friendship – and the picture at the top gives you some idea of how busy the area is. With more than 30 stall holders, and ample time for conference goers to research projects and chat with the staff on the stalls, the noise is almost deafening.
More reports on the conference will appear in the next few days.