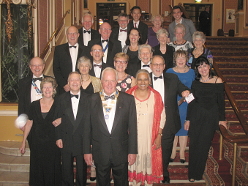 The team from Northwick Park and their 'other halves' paused briefly at the District Conference in Eastbourne for their photograph to be taken at the Saturday Night Governor's Ball with Club President Bryan.
The Conference was managed by Club Member Sydney assisted by a team from a variety of Clubs in the London Area, and was well attended.
There were many exceedingly good speakers including a talk by Tessa Dunlop on getting into the media, and a talk by Dom Littlewood who has been a diabetes sufferer since age 10. The final day also featured a demonstration of Canine Partners led by Malcolm Wells MBE.
Next year's conference looks equally promising and will also be on in Eastbourne, from 23-25 October 2015. We will all be there – will you?