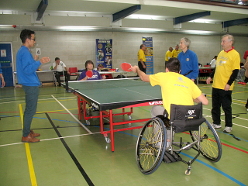 Members of the Club with our Rotary Scholar Kohei and our Rotary Youth Exchange Student Mihai made their way to the Michael Sobell Sport Centre in Stanmore on Sunday 12 October 2014 for the Rotary North London Disability Games.
Launched in 2012, the games provide a day of fun and games for disabled contestants, with the award of bronze, silver and gold medals at the end of the day. This year there were dignatories from Barnet, Enfield, Elstree and Harrow, as well as our own Rotary District Governor David Palmer, and all were involved in presenting medals.
Our Club was tasked with running the Table Tennis Tournament. Owing to a difficulty in getting carers to attend for one group, we were unable to run a tournament for the wheelchair contestants, but our Rotary Youth Exchange Student stepped in an played table tennis from a wheelchair for the first time in his life – well done Mihai! Rotary Scholar Kohei was able to use his table tennis skills and knowledge to act as a referee and scorer, and even managed to coach one of the players on her technique. More photos can be found in our photo album.
The event was a great success, and organiser Scott announced that it will be repeated in 2015!