Our meeting on Wednesday 8 October 2014 is one that will go down in the history of the Club as one of the most memorable we have had in recent years. On paper, we had just one speaker, but in the event the 50+ people present were treated to a host of presentations, a moving speech and a pledge of continued support from our District Governor, David Palmer.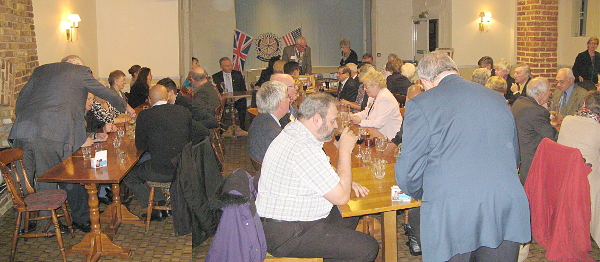 With more than 10 Clubs present at the meeting including strong support from the Inner Wheel Club of Northwick Park, we also had the District Governor and Jenny, half of the Assistant Governors in the District and a group of visitors that included representation from the Rotary Scholars in London, and a long term Youth Exchange Student.
Our friends from Felsted Aid for Deprived Children, a UK based charity that takes aid to the Revival Centre in Chernihiv in the Ukraine were elected Paul Harris Fellows in recognition of 20 years dedicated support to those in need. And then, a fourth sapphire was presented to our member Dick in recognition of his service to Club & District last year.
Then our speaker Dr Vasyl Pasichnyk took the floor, assisted by his interpreter Svetlana. It had been a momentous day for him as well, having been granted an honorary doctorate in Cambridge earlier in the day. He spoke about the Revival Centre which now sees 245 children every day, and how public transport in the Ukraine is not suitable for disabled children. The need for their work is growing rapidly – there are 500 new children born each year needing the rehabilitation the Revival Centre delivers. The centre has treated 23,000 children to date, and is now being assigned children from other states in the country. The centre is also supporting refugee families from other parts of the country.
The Revival Centre has recently come under review by UNICEF and has been declared to provide a standard as high as any centre in Europe, and has achieved this effectively in a time of war and revolution in the Ukraine. The problems in the East of the Ukraine were mentioned, as were the complications of much of the nation's social support programme being redirected to defending the country from unwelcome interest from the outside.
David Palmer, our District Governor finished with a statement that all 64 Clubs in the London District will continue to follow the same path as was launched last year to support this project to deliver a minibus to the Revival Centre. He said, "We won't stop until we achieve the goal – you will have a minibus in due course".
It was a most inspiring and memorable evening, and our congratulations go to all those organising this impressive event.