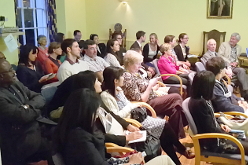 Very nearly all the scholars studying in London this year on Rotary Scholarships were at the Scholars' Seminar organised at Rotary in London's headquarters in central London on Sunday 7 October 2014.
Amongst those there were June and Dick and our Club's scholar Kohei. The seminar covered important information about the commitments to be fulfilled during the academic year, about living safely in London for a year and included a presentation by a Rotary Scholar who had been in London on a scholarship during the last academic year.
A meal was provided for the scholars by the York Gate Caterer, and the District Governor and the District Rotary Foundation Chairman both made presentations. The Rotaract Chairman for the District, Jakob Zimmerman, was also there to introduce Rotaract.
The whole event was organised and run by Stella Russell, who looks after the inbound scholars for our District.