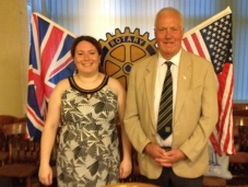 Our speaker on 23rd April was Celine Pasty, District Rotaract specialist. She was member of the Rotaract Club of Putney from 2006-2009 and President 2007-2008. She is now a member of the Rotary Club of Tower Hamlets.
Celine informed us in detail what a Rotaract Club is and its main functions. Rotaract Clubs are autonomous and run by the membes for the members. The clubs are self funding. They normally have two meetings a month. Advantage of starting a Rotaract Club is they can help Rotary Clubs with their fundraising activities. They aso provide man power and technical support. They bring enthusiasm and diverse audience to the clubs.
At present there are 6 Rotaract Clubs in our District.
Rotaract is all about having fun while helping others in the community.