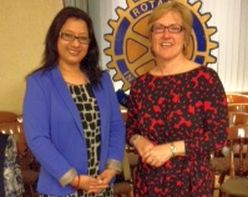 Pushpa Thapa, an Immigration Advisor gave a most interesting talk.
Born in this country of Nepalese parents she grew up uncertain what to do in a career.   She originally worked in a travel agents and found that a lot of travellers to and from this country needed help in filling in forms and applying for visas. and that as she spoke fluently in several languages ( English, Nepalese ) that was an advantage for her.
She saw an opportunity to set up her own business and advisory service committed to helping people, mainly students originally, to sort out their paperwork and ascertain whether their documents were genuine or not for the purpose of obtaining visas and/or work permits when leaving or coming to this country. Her business flourished and many
years later after marriage and three children she still enjoys being able to help members of the public.
President Ros, commented :- " so good to hear some respect for Rotarian Doug Try (her neighbour) as she referred
to him as 'Mr Try'. "
A few Q's were asked from the floor about her well received talk.