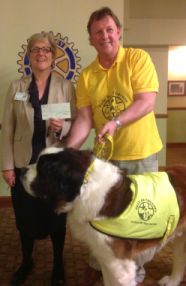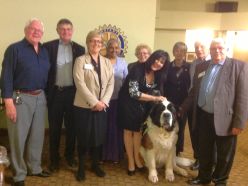 Graeme Simpson and "Man`s Best Friend " Hercules were the presenters for PETS AS THERAPY, a charity established in 1983, It is a community based charity providing therapeutic visits to hospitals ,hospices nursing and care homes, special needs schools and a variety of other establishments. They, owners and pets, cats or dogs are volunteers, and give of their time freely .How many visits and how much time they give, depends on the individual volunteers, their "day jobs" and free time. They are all very generous with their time.
Since the beginning over 28,000 dogs have become registered PAT dogs. All dogs have to be assessed and pass a health, temperament, and suitability assessment to join Pets As Therapy.
Any dog or cat can become a PAT dog or cat as long as it has been with its owner for a minimum of six months and over nine months of age and pass the assessment. All PAT dogs wear a Special ID Disc on their collars and a coat the owners also wear a special I.D badge and T shirt on visits.
Today there are over 5.000 active PAT dogs and a smaller number of cats working throughout the UK , bringing comfort and companionship to thousands of people , both young and old. By giving them an opportunity to stroke, hold, and talk to one of these calm and friendly dogs and cats.
Graeme related how Hercules provided individual animal assisted therapy, working with stroke patients, and Alzheimer's patients bringing smiles to their faces and verbal and physical responses from them, sometimes the first response in a long time. He talked about how an elderly man "spoke" for the first time in three years when he met Hercules.
Hercules is an 8 year old St Bernard weighing 14 ½ stone, he and Graeme started working with PAT when Hercules decided he no longer enjoyed his "show Career "being shown at Crufts and other competition shows. He costs £120.00 a month to feed and £52.00 for each bath visit. St Bernard's as a breed were in the past,regarded as a rich man's dog costing £2,000.00 in 1920. They are a giant breed and became famous through tales of alpine rescue, as well as their enormous size. Hercules is definitely not a little pet, more a gentle giant.
Graeme and Hercules, have visited, Care homes, hospitals, Schools, Intensive Care Units. Great Ormond Street Children's Hospital, an Evangelical Church in Golf Oak, and The House of Commons. And soon Hercules will also be featuring in a Manchester United Video.
They have helped children with autism and learning difficulties. Children have responded positively to Hercules preferring and enjoying reading to him, than to a person. They are frequent visitors to Watford General Hospital and their Breakfast Fun Club.
As Graeme said dogs and cats do not discriminate they give love and healing to all regardless of religion race and creed. Non-denominational and non-political,they mirror the rotary ethos in that, and also in their work by providing a service to the community.