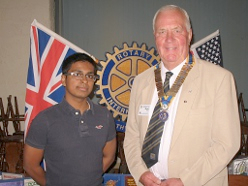 Our speaker on Wednesday 27 August 2014 was Sakib Rashid. Sakib had written to the Club requesting support for a Project Raleigh trip to Costa Rica. The Club had closely examined the request and decided that it would support Sakib, on one condition. He had to come back to the Club and tell us all about his adventure.
It was a pleasure to welcome Sakib back to the Club and hear about his adventure. It had taken place in two parts – firstly working on two safe drinking water projects in Nicaragua, and secondly undertaking a three week trek across the countryside of Costa Rica.
Costa Rica lies on the mainland strip that joins North America to South America, and is located between Panama and Nicaragua. Despite a sign saying "Hilton Hotel – Raleigh" outside his tent, conditions were described in detail and can be classified as "basic". Sakib had to deal with his fear of insects from the outset!
He stayed with a Raleigh Project Team in one village in Nicaragua, and then left for another village to live with a local family near Achuapa. In the first village, the project team located a suitable water source, built a well and then started digging water flow trenches down to the village. Technical experts were on hand, but the Project Team were expected to work with the local people as manual labours. In the second village, living with a family, he had taken on water-collection duties for the family in exchange for his board and lodging. Again, a well was built and Sakib had worked on the task of laying 2 miles of pipe down to the village. Both projects outlasted his stay, but he found passing tasks on to successor teams properly a useful discipline to learn.
The trek through the countryside was 250km long and lasted 3 weeks. The diet on the trek was the same as that in the villages – beans, rice and tortillas. As well as meeting an array of insect life, they had met waterfalls, a volcano, an enormous sink-hole, and a group of soldiers in a base camp who had it just as tough as the trekkers!
It was an exciting adventure, and Sakib was an expert at sharing the excitement with his audience.
As well as having a visit from Mihai, our Long Term Exchange Programme student from Romania, we also had a visit from Rotary Youth Exchange student Luiza Lopes who has come to London from Natal in Brazil.