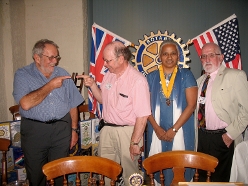 At our meeting on 3 September 2014, with President Elect Ritu in the chair, we had a discussion rather than a speaker. The discussion was on the forthcoming Scottish Referendum – Yes or No? Rotary Clubs normally avoid discussions on Religion, Politics and Money, but the Referendum is a once in a lifetime occasion, so we made a special exception, and Stan chaired the discussion.
As most people in England, Wales and Northern Ireland do not have a vote in the Referendum, the debate was organised from a "Scottish Viewpoint", dealing with the issues as seen from Scotland. Club Member Sydney proposed a No Vote, and Club Member Dick proposed a Yes Vote. After their two short presentations, there was over half an hour of questions, answers and statements from the Club members. Questions concentrated on Energy, Defence, Welfare, Education, Health, Currency, Economic viability and Political viability. At the end, a show of hands was taken, and the Club expressed the opinion that it would prefer that Scotland did not return to being an independent country.
Members were reminded of the collection of clothing and toiletries for the Revival Centre being assembled at Helen's home, and the planned collection by Felsted Aid on Sunday morning, 7 September 2014.
Also making its first appearance at the Club was our new game which will be used on the Club's stand at the Pinner Village Show on Sunday 13 September 2014 in Pinner Memorial Park.