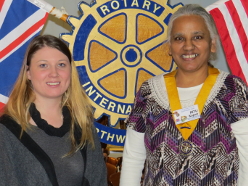 Our speaker on Wednesday 26 November 2014 was Hailey Acton Deboick from the Teenage Cancer Trust. If members were concerned that this would be difficult talk, they were wrong – Hailey gave an entertaining and uplifting talk, with more than a hint of humour and inspiration!
With a raft of facts and figures at her fingertips, Hailey took us through the basics.Roughly speaking, seven new cases of cancer are diagnosed each day – about 50 cases per week or 2,500 per year. 20% of the detected cases of cancer in teenagers in the UK are found in the Greater London Area. Then consider that it can take three or four visits for a cancer to be diagnosed correctly, and the load on the London Health System becomes apparent.
Hailey invited us to remember how we were when we were 16 years old, and then asked us to imagine that we had just been told that we have a cancer. What would we want from the medical professions in terms of care and treatment? Under 16s are often unhappy when treated in a children's ward – over 16s could be in a ward with geriatric patients, some of whom could be dying.
The Teenage Cancer Trust would like to have the problems of looking after teenagers  under control. They have some 28 units around the UK, with another 5 coming on line. Each unit has a small team of specialists to provide care for teenagers, and many have an outreach programme for those that cannot be treated in hospital. Even with this many units and staff, only 50% of the teenagers get treatment in a unit. The aim is to double the present achievement. The first goal is raise awareness, and Hailey did a first class job in raising our awareness of what needs to be done and why. Well done Hailey!