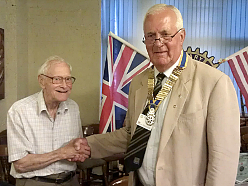 To the delight of all the members of the Club, Harold Kirby was inducted as an Honorary Member of the Rotary Club of Northwick Park on Wednesday 6 August 2014. Harold is a founder member of the Rotary Club of Northwick Park, and served as Club President 1988-1989. Harold has always been an active member in the Club, often showing the way to the younger members! With 36 years of continuous active service, all the members of the Club cheered when he was inducted as an Honorary Member.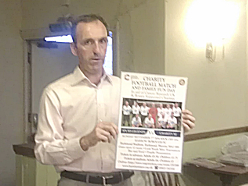 We had a visit from the Rotary Club of Harrow with three members coming to promote their Spurs Legends Charity Football Match taking place at the Harrow Borough Football Ground on Sunday 7 September 2014 at 2pm.  Members were asked to support the event in a variety of ways.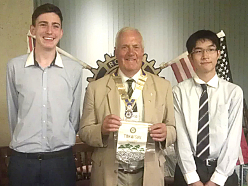 We also had another Youth Exchange Programme visit, this time from Itsuki who has come from Takaishi in Japan (just south of Osaka), and his exchange partner Joe, who comes from North West London.
Without a speaker, our member Doug Try lead a discussion on the question, "What happened to the Common Market?" Doug had 'lifted' some research from the Internet, and described the European Coal and Steel Community, the European Economic Community – which Britain joined in 1973 – and how it became the European Union in November 1993. Despite our membership lasting more than 40 years, the number of fallacies and inaccuracies believed by Britons are legion. Doug gave several examples. Agreement, reached in the discussion, on what had happened was determined as Change – Change from tariff harmonisation to prevent wars, Change through dual political-control, to Change into an economic and currency union. Well done Doug for a stimulating topic!