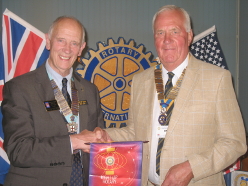 Our meeting on Wednesday 13 August 2014 was one of the special nights in the Rotary Year; not just because we had our partners present at the meeting, not just because we had a 'raid' from the Rotary Club of Edgware and Stanmore and President Suresh, not just because we had a visitor from the Rotary Club of Essendon in Victoria, Australia (G'day Barbara), and not just because we had a return visit from two Short Term Youth Exchange students.
No, our meet was special because it was our official visit from our District Governor David Palmer, who brought us both the vision of the world Rotary International President Gary C K  Huang, and his own interpretation of that vision in the context of Rotary in London.
David brought the greetings of his own Club's President Sue Coleman and presented the theme banner and two special pins for our President Bryan. David commented on the fact that his own daughter had taken part in a Rotary Youth Exchange programme and how important it had been to her career development. David then told the story of how he had come to Rotary Leadership following the unexpected death of a young Assistant Governor back in July 2009. David also mentioned Rick D King's 20 Reasons to Join a Rotary Club and its emphasis on friendship. Rotary for David is a Hobby and should be fun and enjoyable. It is not the same as Health, Business, Wealth, Family, and Religion.
David did not want stop/start Rotary, and to this end he has decided that support for the Minibus Project in the Ukraine should continue for the year 2014-2015. He explained that "Light Up Rotary" relates to our publicity and the illumination we bring to show our work to the world at large. He asked that we support the Rotary Foundation through Sustaining Membership, we maintain a unified identity and brand, and by extending our membership to those that have not yet benefitted from joining a Rotary Club. Our target was to find between 3 and 6 members (3 on average per club in the London District).
His big new project is with Silver Line. Details of this project, organised with Esther Rantzen and her team, are still being refined but progress has been good. He described the project as being the answer to those that criticised Rotarians for giving "purse service" rather than "personal service". Silver Line will be at our District Conference in Eastbourne from 17-19 October 2014.
Below are the two Short Term Youth Exchange students (Itsuku and Joe) with DG David and President Bryan. Also President Suresh exchanges banners with our club.