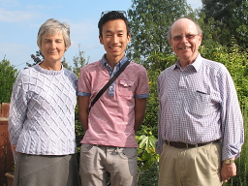 Our Global Grant Inbound Scholar, Kohei Norota has arrived in London and is busy settling in. Apart from a busy schedule studying hard at the School of Oriental and African Studies, he is also getting to grips with a full programme with the Rotary Club of  Northwick Park, with Rotary in London and with all the other Global Grant Scholars in Great Britain and Ireland.
Kohei plans to visit the Club in the near future, and is scheduled to speak to us on 18 February 2015. In the meantime, he had to 'make-do' with a visit to June and Dick at the weekend. In the coming week, he will get his schedule of lectures, seminars and tutorials and then the hard work begins.
All the members of the Club wish him every success in his scholarship year.