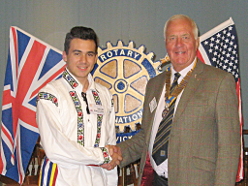 Our speaker on Wednesday 24 September 2014 was our Long Term Exchange Programme student Mihai who is studying for 12 months in a school in North West London. Mihai gave a most interesting talk with a selection of slides introducing us to many aspects of his home country, Romania.
After some introductory facts about Romania (e.g. population 18m), we jumped back in time to the Roman Empire and the war with the Dacians, who inhabited the area that today we call Romania. The country we call Romania today came to be in 1859 through a shared monarch, and did well integrating three nations – Romania, Moldavia and Transylvania – into the one nation. At the end of World War 2, part of the country was seized by the Russians, and the remainder became a communist state for just over 40 years. Today, democracy has returned, but politics and politicians are still unpopular!
Mihai introduced us to the many sightseeing opportunities in Romania, and to some of its leading citizens past and present. He then introduced us to the members of his family and the principle features of his home town, Arad. We also learned how he likes to spend his leisure time, and his plans for the future. In answer to questions, he also covered differences between schools here and there, and the status of the Romany people in the country.
An excellent talk, and some amazing slides – well done Mihai!