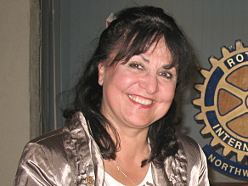 Our Club Member Helen Antoniou has been nominated by all the Rotary Clubs in London to be our District Governor for the Rotary Year 2017-2018.
This is wonderful news for our Club, and Helen will be the third District Governor – after Sydney and Dick – to come from the Rotary Club of Northwick Park which was founded in 1978.
Helen's success in the ballot was announced at the District Council Meeting that took place on Wednesday 22 October 2014 at International Students House in central London.
All the members of the Club wish Helen every success in her build-up to the job and in her year as District Governor.