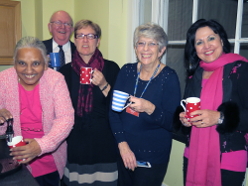 Members of the Club take a moment's break whilst working on the party in the District Headquarters in York Gate, London, after the District Carol Service on Monday 1 December 2014.
Left to right are President Elect Ritu, John, Immediate Past President Ros, Club Secretary Lucille, and Assistant Governor Helen. Also present (and taking the photograph) was our Webmaster, Dick.
On the menu at the party was an enormous urn of warmed mulled wine, mince pies, stollen and panetone. There was also a projected log fire in a grate in the Board Room, helping to illustrate our theme this year of "Light Up Rotary"!
Members of the crew had a good time as did all the Rotarians, members of Inner Wheel and friends that attended.