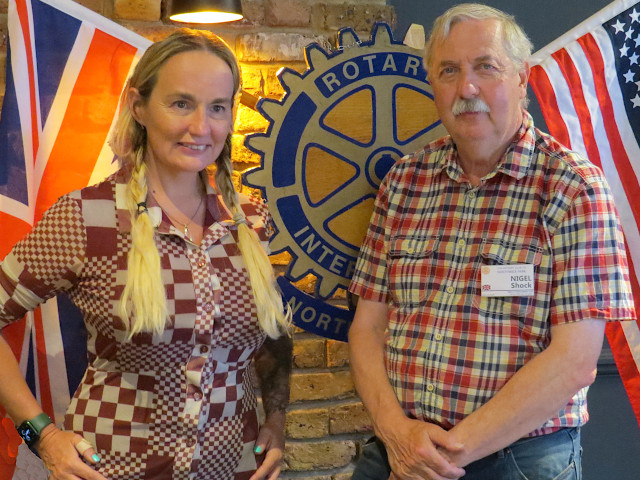 Our speaker on Wednesday 20 July 2022 was a Rotarian from the Rotary Club of Edgware and Stanmore – Rachel Dimond – speaking about My Yard (https://www.myyard.org.uk/).
My Yard is a registered charity based at Grange farm community centre in South Harrow that works for youth and communities in Harrow and Hertsmere. City Harvest began delivering free food to My Yard in 2017 freeing up their small budgets, enabling them to offer more diverse services and opportunities to unite and support deprived communities. City Harvest has delivered 30 tonnes of food which represents 71,000 meals, preventing 110 tonnes of greenhouse gases, at a retail value of £91,802.
From coffee mornings, to community meals, food banks for families who cannot afford to eat, to children's after school clubs and holiday activities – My Yard is helping people in a community that often no one else is helping. "We have many families in temporary accommodation, who sometimes are unable to work or are on very low incomes and struggle to feed their families".
Rachel explained, "To really provide the right help, we need certain things. For example If I get a call from a mental health team member, explaining the person's needs, I have to be flexible and find solutions. It could be they have no cooking facilities, have eating issues or disorders or simply special dietary needs. We love using surplus food as it reduces waste, but it's crucial to work with charities like City Harvest who are able to really listen to us communicate our clients' needs and therefore help and provide what we are desperate for."
Rachel set up My Yard to counteract social isolation. "If people can be lifted before they dip too far, it is important and it is efficient. Coffee mornings for people to mix and using surplus food are good ways to get to know each other. Be it collecting food parcels, coming to events or eating meals together. For us, food is a tool to create solutions to a lot of problems."
Rachel finished with a YouTube video which can be seen here:
https://www.youtube.com/watch?v=3WMhK3zIo3I