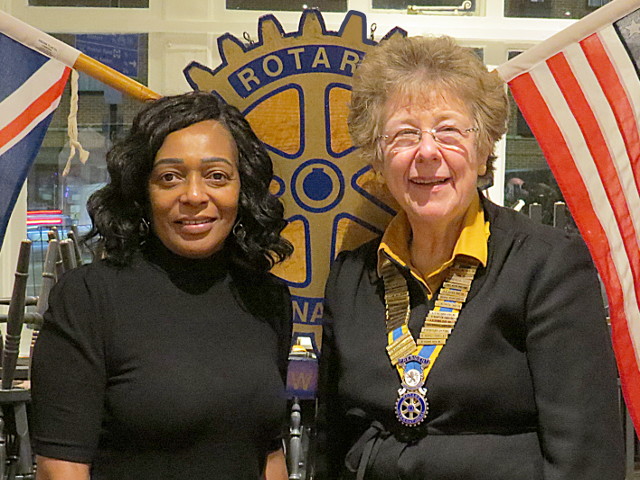 Our speaker on 26 February 2020 was Shirlee Hunte who addressed the Club on her experience managing volunteers in and around Harrow.  Before she addressed the Club we welcomed Barbara and David again, there was news from Hampstead, Hendon and Golders Green (HH&GG) Rotaract Club, whose President Craig Simons had been made a Paul Harris Fellow, from Mike's Grandson who is progressing well towards Sandhurst, and members were reminded of the busy day being planned for next Tuesday, starting in St Mark's Hospital and culminating in the Youth Makes Music Concert at the Royal Festival Hall.
It was then time for Shirlee to address the Club.  Shirlee is the Volunteer Lead for the London North West University Healthcare National Health Service Trust, the body running four acute hospitals, a hospice, a rehabilitation hospital and more than 20 clinics and centres across 3 London Boroughs.  There are currently some 550 volunteers working for free on behalf of a variety of groups, some working directly with patients, and some working indirectly.  For several years before Shirlee joined the trust, volunteers had given of their time without any records being kept and without any management.  Whilst this may have been acceptable in the past, the current climate is more demanding with its emphasis on safety, safeguarding and compliance.
Shirlee's significant achievements include a database developed by her, unified policy documents for compliance, and this was done without losing the volunteers.  Each day is different, making demands on her creative skills.  Volunteering is good for the Trust and good for the volunteers, and Shirlee ensures that it is done professionally and successfully.