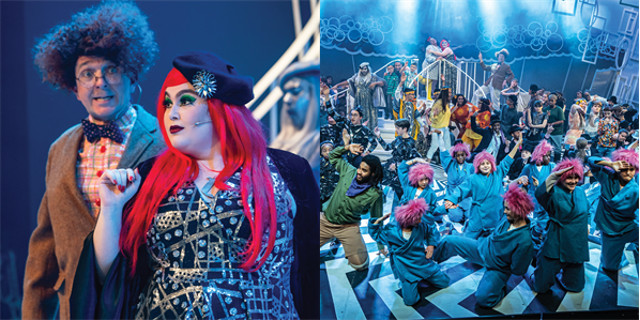 Photos by kind permission of Chickenshed Theatre
Members of the Club made their way to the Chickenshed Theatre near Southgate on Thursday 12 December 2019, to support their annual Christmas Show.  This year it was Snow White but there were no dwarfs – instead we had Snow White and her Magnificent Seven!
The Seven represent emotions including Panic, Sunshine, Achilles, Downer and Laugh-er amongst others.  The story has been reset into the 1960s with its pop icons, hippies and with a fashion model theme.  The characters are all strongly played, and the ingenious set and speaking mirror demonstrate that the highly creative standards are more than being upheld.
Chickenshed is a theatre company where all-comers are welcome and get to perform regardless of any difficulties they bring.  An evening at the theatre is a heart warming and uplifting experience.