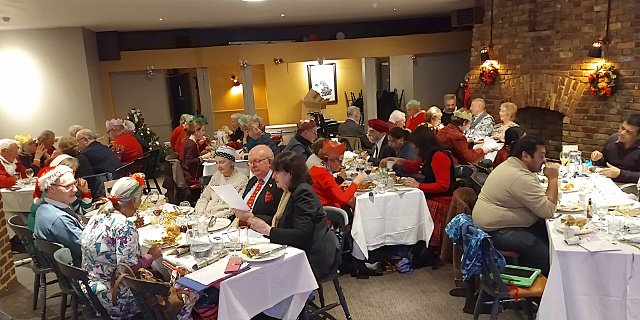 The Club, including spouses, friends and others met at our normal venue on Wednesday 11 December for our annual Christmas Meal.
With very little business to be discussed, we spent most of our time on the two Christmas Quizzes, the Christmas Anagrams, and even a Christmas Bingo.  There was also a spontaneous sing along to some of the background music at our venue and we repeated the popular Secret Santa which resulted in a simple present for each member of the Club.
Instead of a Christmas Edition of our Club Journal, one of our members had created a Christmas Card with each card containing the personal Christmas wishes of the members of the Club.  This was very warmly received by all the members of the Club, and it looks like she has landed a job that will be repeated year after year!
The Club finally parted with thoughts on the Christmas Collections that now need to be undertaken in order to fund our support of local charities in the Harrow area.