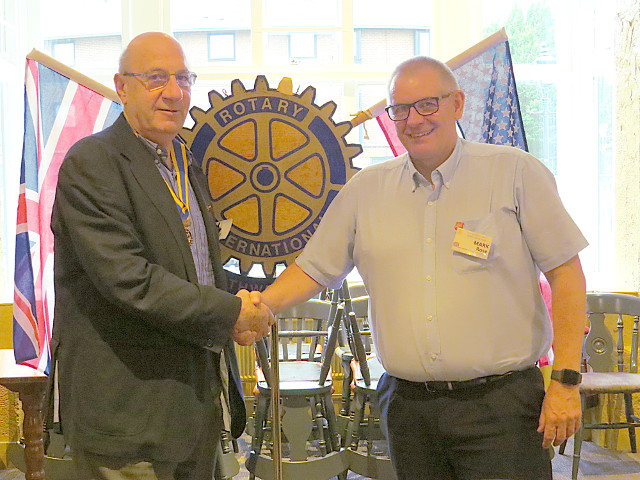 The final meeting of the Rotary Year was held on 26 June 2019 at our normal venue.  The occasion was 'Marked' with Major Mark Rose giving his Job Talk.  Before that however, we heard about the events at Stanburn School earlier that day.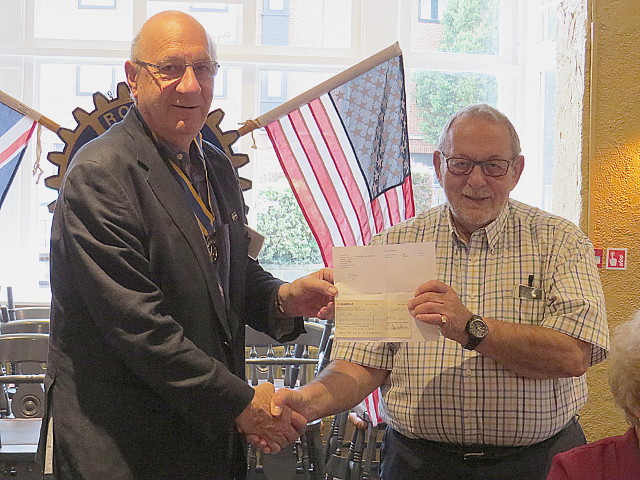 Stanburn School is a local primary school, and features broadcaster (and former politician) Michael Portillo amongst its alumni.  The school has a newly formed Rotakids Club, and the children had decided that the club would fund raise for Rotary's Polio Eradication Campaign.  The project was a great success and raised £890 for Polio Eradication.  The sum raised with attract a 2 for 1 grant from the Bill and Melinda Gates Foundation, making the total just over £2670 – enough for the immunisation of 10,600 children.
It was then time for Mark to describe his job as a Minister of Religion and as a Major in the Salvation Army.  He started with a video entitled Faith in Action describing the work of the Salvation Army, and then described what he does at work – a very impressive list – and who he has met over the past 25 years with the Salvation Army.  He had also been the 'face' of the Salvation Army for a Christmas Appeal.  He finished with a list of "Highlights" over the past 25 years, including tea with Her Majesty the Queen along with 20 others.
One of the tasks that he does regularly is to drive and serve in the Tea Wagon, which attends a wide range of incidents, providing support in the form of tea, cake and sandwiches to the emergency services.
There were many questions at the end of the talk about all the aspects of his service, and a fulsome and well deserved round of applause came at the end of his talk.