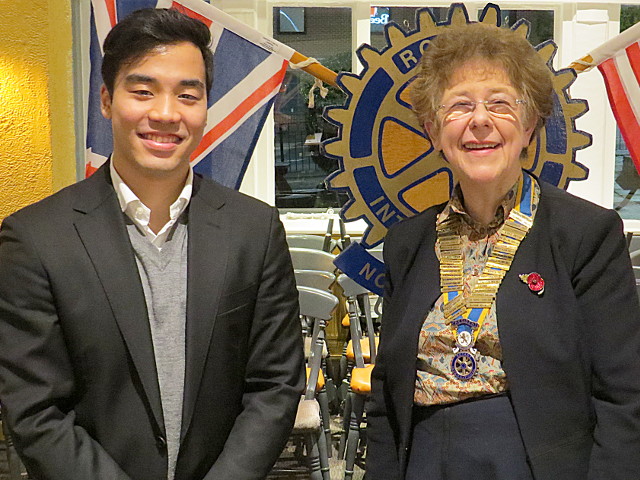 Our speaker on 06 November 2019 was our Global Grant Scholar Shusei.  Before he spoke to the Club we had the usual reports on visits, good news and announcements concerning the various forthcoming events.  Traffic had delayed the arrival of President Rachelle – 2 hours to make a 45 minute journey – but President Elect Siva was able to start and run our meeting smoothly.  Rachelle did arrive and was able to report on the Coffee Morning supported by the Club for LUPUS UK,  the Rotary Foundation Dinner and the Sainsbury's collections on 15-16 November 2019 for a defibrillator and for disaster funds.
It was then time for Shusei.  He introduced us to the members of his family including his younger brother Yuto.  He then showed us around his home town of Konandai, a suburb of Yokohama – which itself  is about 1 hour south of Tokyo by train.  50 years ago Konandai was a rural area outside Yokohama, but the expansion of the city has been enormous and, by population, it is now the second largest city in Japan.  He also introduced us to the members of the Rotary Club of Konandai-Yokohama which meets for lunch on Fridays.  He was also able to tell us about the projects undertaken by the Club, including the Chanko Meal each February with support from famous Sumo Wrestlers, their picture books for schoolchildren project and their wheelchair project.
Shusei gave us a breakdown of his academic career so far, and he seems very much to be in his element in his field of bio-engineering. His special area of interest is the possibility of using nanobots to cross the blood-brain barrier with medication for conditions like dementia and Alzheimer's disease.  Whilst trials on mice undertaken in the USA have shown great promise for this technology, there is still a long way to go before these systems will be available to human patients.
The same technology offers the potential for individuals to be connected wirelessly to the Internet, but some human evolution may be necessary before we can cope with so much information!  This is complex science, but Shusei's explanation was clear and lucid.  We all wish him well in his studies at Imperial College, which includes Alexander Fleming amongst its alumni, and is rated 10th in the world in its field by the Quacquarelli Symonds system.  Thank you Shusei for an interesting and challenging talk.