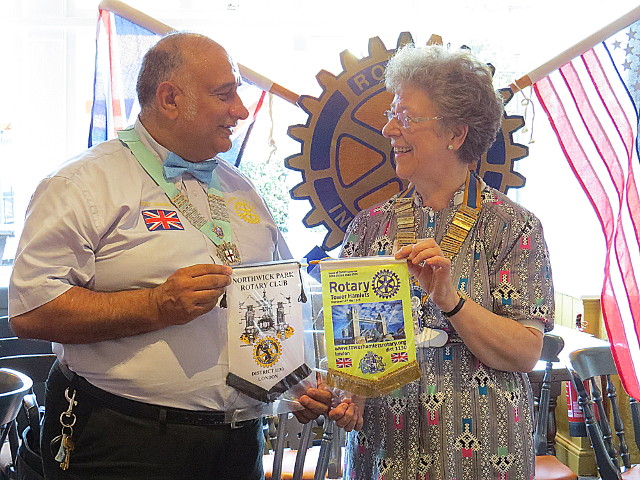 Our meeting on 24 July 2019 started with one minute's silence in memory of the Club's Founder President Eric Pepper who had died peacefully on 22 July 2019.  A short eulogy was presented by John Evans who as a founder member had got to know Eric quite well.
There were the usual announcements including one member getting his car back after 9 weeks in a garage, and a member receiving a real refund by HMRC rather than the usual phone call or email that so many of us receive today.  We also had an update on our new defibrillator project now that our venue is getting one as part of their company policy.
It was then time for our District Governor, Tony Sharma, who delivered a message very much for the current times.  He brought the greetings of the RI President Mark D Maloney, and the RIBI President Donna Wallbank, and the greetings of his Club President Kiran Patel.  He spoke about his background, and his early experiences in Rotary and how these have shaped his outlook today.  He called on the Club to help "Grow Rotary", and outlined several ways in which this can be done.  The Club will be hosting an event on this subject on 26 September 2019,
There will be no District or DG Projects this year as he wants the District Team to support the work of Clubs.  He also invited the Club to attend the District Conference in October, where there will be a full day of sessions on the Saturday, and Youth Makes Music next March.  There was also a request to support DG Tony at the RI Convention in Honolulu.  He closed with his recent trip to Pakistan, taking part in a polio immunisation day where there were 6 heavily armed police to make sure nothing happened to the Rotarians immunising the children.  The Club President provided a summary of the Club's programme of projects and events and proposed an enthusiastic vote of thanks.