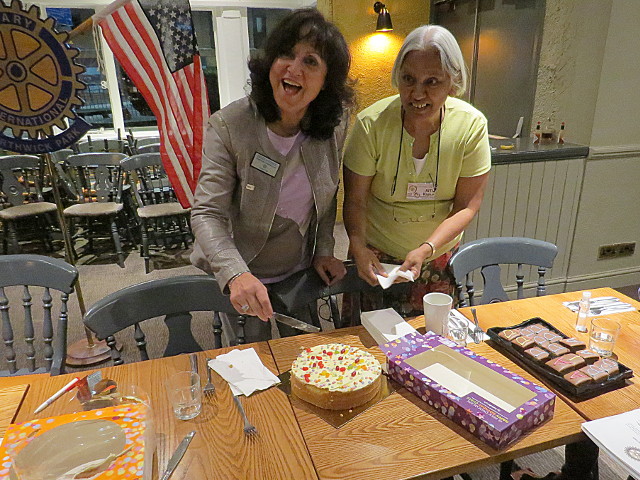 Our meeting on 12 September 2018 featured an unusual number of birthdays – even including our own!
The meeting was a Business Meeting, and as well as reports on how the projects are progressing, we learned about the plans for World Polio Day (24 October) and Rotary's Birthday (23 February). We had a report on the Pinner Village Show, and the plans to move the Dementia Club to the first Tuesday of the month rather than the third Wednesday as it is at present.
Our Youth Service plans, linking up with the Rotary Club of Wembley on the competitions, this winter and the allocation of schools was discussed.  Christmas fundraising is to concentrate on supermarkets rather than the house to house street collection, the Lend with Care Microcredit project is working well, and the weekly wine raffle funded £211 of toiletries loaded into Felsted Aid's van for the children in Ukraine.
The Conference event for the Club will now be a dinner rather than a lunch on the Saturday.  We also learned there have been some difficulties with the District Grant project the Club has been working on, as the recipient has got some problems to sort out before the project can be progressed.
As well as two Club Members celebrating a birthday, the Club celebrated its 40th Anniversary of its Charter, and it was cakes all round, thanks to President Elect Rachelle.  What an excellent end to a business meeting!