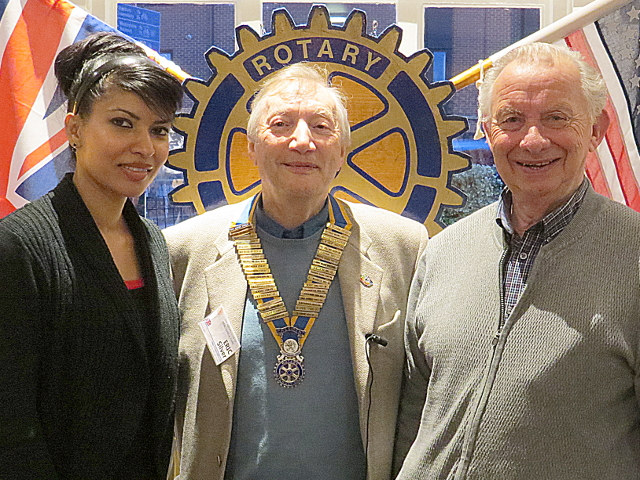 Our meeting on 03 May 2017 was a Business Meeting again, but interest was added with the two visitors to our Club that evening – pictured above with our Club President.  We are all looking forward to seeing Brian and Danuck again in the near future.
The meeting started with a minute's silence to observe the passing to Higher Service of our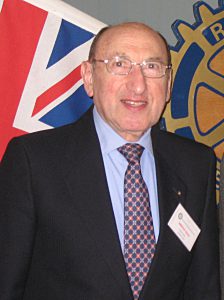 former member Arnold Green.  Arnold had been in Rotary for more than 40 years, having been a President of the Rotary Club of Elthorne Hillingdon before joining Northwick Park. Arnold had borne ill health quietly for many years with good humour and stoicism – he was always a very popular member of the Club.
With the move to on-line magazines in Rotary, our Club Secretary was offering 'collectors' a chance to keep one of the printed editions.  It seems on-line reading is becoming more popular!  Our programme for the remainder of May was also clarified with our own member Siva speaking on 24 May 2017.
The Community projects for the remainder of the year were clarified, and our Kids Out Day event on 14 June 2017 was confirmed.  We then heard that the new Secretary General of the United Nations would be visiting London later this year.  The final arrangements for the visit from our Contact Club in Italy were also announced, including the revised departure time.  The Purple 4 Polio Tea Party will take place at Ritu's on Sunday 25 June 2017 at 3pm.  Tickets will cost £10.
The Club is holding a Quiz Night on Saturday 17 June 2017 at Pinner Parish Church Hall with a Ploughman's Supper. Proceeds will go to Rotary supported Charities and tickets will be £12.50 each.