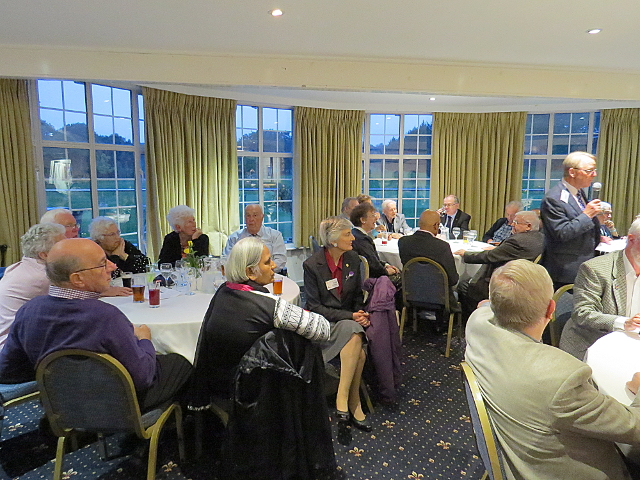 Instead of having our usual meeting. on 27 September 2017 we had a Social Night at Stanmore Golf Club.
There were some 80 people present for the occasion, coming from 8 of the 10 Clubs in North West London.  There was an opportunity to announce a series of events – some of them clashing with each other, and some of them clashing with District Events – a rough selection appears at the end of this post.
The Edgware and Stanmore Club presented a special award to one of their members – David King
There was a buffet of sorts, but even the vegetables had been deep fried (in a spring roll or breadcrumb) and the garnish of tomatoes and cucumber were almost immediately swept away by those at the front of the queue!
And then we had the keynote speaker for the evening, Peter Suchet who is a sibling of the famous David Suchet, and John Suchet.  Peter had had a distinguished career with Saatchi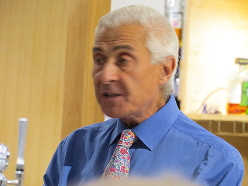 & Saatchi (although he was careful not to claim fame for generating any of their slogans) and is currently Director of Fundraising and Marketing for the Honeypot Children's Charity who had spoken to our Club the previous week!
There was much interest in the Suchet family history, details of which appeared in the BBC Television Programme "Who Do You Think You Are?" Originating in Lithuania as Kosher Butchers, the family had moved to South Africa just before the turn of the 20th Century, and had come to England from there.  Whilst their father's family and their mother's family had pursued technical subjects, all three brothers had ended up in communication!
Events in North West London
Edgware and Stanmore Bucket collection
Mill Hill – Musical Soiree – 29 September
Wembley – Business Networking Meeting – 03 October
Elstree and Borehamwood – Golf Day – 13 October
Mill Hill – Quiz Night – 14 October
Northwick Park – Metropolitan Police Choir – 11 November
District Foundation Donors Evening – 15 November
Elstree and Borehamwood – Quiz Night – 15 November
Harrow – Beaujolais Nouveau Night – 16 Novmeber
Harrow – Folk Music Night – 10 March