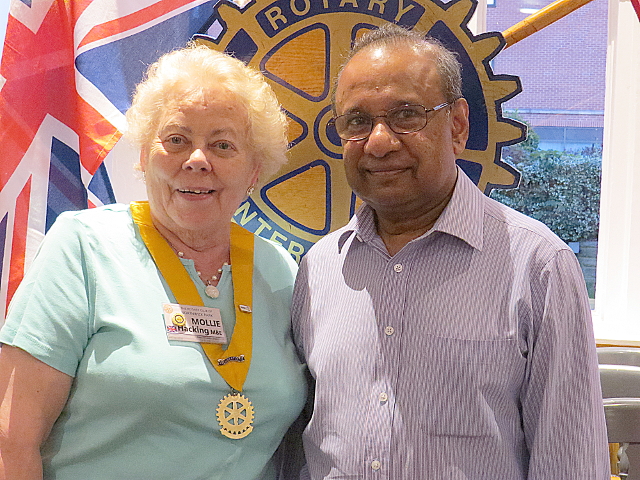 Our meeting on 24 May 2017 was especially important as it was the first time we had heard our comparatively new member, Sivakumar (known to everyone as Siva), speak to the Club.  The Club observed a minute's silence before he spoke in memory of those that had been killed in the suicide bombing at the pop concert in Manchester on Monday 22 May 2017.
But before he could speak to us, we had a bit of business to get through with our President Elect in the chair (as President Eric was being installed as Mayor of Elstree and Borehamwood Town Council).  There were many visits to other Clubs reported, and President Elect Mollie had been to St Paul's Cathedral for a special service for the Members of the Most Excellent Order of the British Empire.  Also present at the event were HM Queen Elizabeth and HRH Prince Philip.
The Club decided to take a pitch at the Pinner Village Show on 9 September 2017. The Club also decided that it was in order to support the new Rotary Club of Mayfair with a donation, and the Club would support a local child with Mucopolysaccharide (MPS) disease who would be attending the MPS National Conference between 7 – 9 July 2017 in Coventry. MPS covers some 15+ genetic diseases associated with a failure to produce enzymes that prevent a build-up of waste materials held in cells in the body.
It was then a small transition from MPS to Siva's story as he had had a career in Obstetrics, Gynaecology and Paediatrics before becoming a GP.  Siva told how his grand parents had arrived in Sri Lanka as merchants near the city of Kandy.  His parents were also involved in the business, so Siva had boarded with his uncle and aunt who lived opposite a very good school.  He had done well at school, and fallen in with a group of students that wanted to be doctors and were studying for their 'A' Levels in Colombo.  After qualifying as a doctor his first job was in a remote medical centre with no facilities – not even an ambulance.  Working with a midwife and an apothecary, he was 'Modern Medicine' to the many patients.  From there he had a spell in A&E in Colombo before travelling to the United Kingdom.  Here he worked and studied to qualify as a Member of the Royal College of Obstetricians and Gynaecologists before serving as Senior House Officer and then Registrar in several hospitals.  With ill health in his family, he chose to change direction and became a partner in a local General Practice where he worked for some 28 years.  He had finally decided to opt out of the partnership and become an employed GP for the same practice in January this year.
His talk was illustrated with many pictures, and closed with a slide showing his father as a Rotary Club President in Sri Lanka.  Well done Siva!  An excellent talk that we all enjoyed.