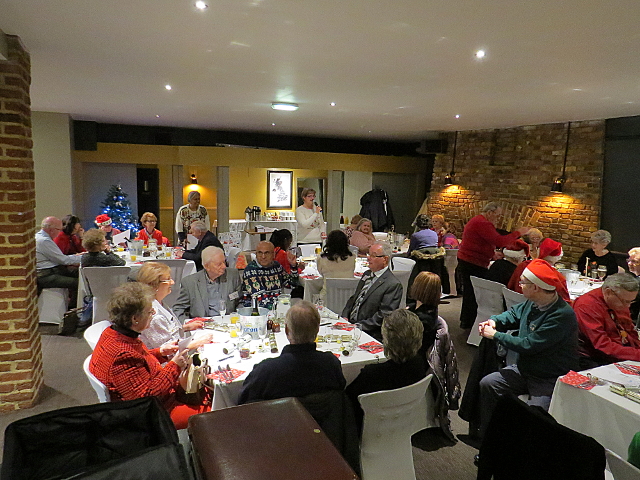 Members of the Club turned up in strength for our Christmas Fun and Games Dinner on Wednesday 13 December 2017.  Everyone agreed that the venue put on a superb menu for the Club.
Heidi was not with us this year, but Ros – Heidi's alter ego – acted as our Mistress of Ceremonies for the evening.  Without wishing to tax her skills, members of the Club had omitted to bring the Bingo Set, and so Ros calmly and professionally re-organised the evening's agenda 'on-the-fly'.  Consequently, for the third year running, we had the five minute pantomime – Cinderella – much in the spirit of the show put on at the District Conference.
Our President had prepared a seasonal address in rhyming couplets that was much appreciated, and our Secret Santa seemed to meet with general approval.  The Christmas Club Bulletin was handed out, and was resplendent in its new Green and Yellow Livery and this year contained a crossword puzzle.  There was even a Christmas Quiz on the evening which generated disagreement over the questions – let alone the answers!!
And the meeting was drawn to a close at 10.00pm before the annual Sing-Song which in previous years has included an acted-out version of the 12 Days of Christmas.  Well done to all those involved, and to any new members who are still puzzled, remember the old saying that "Christmas Comes But Once a Year".