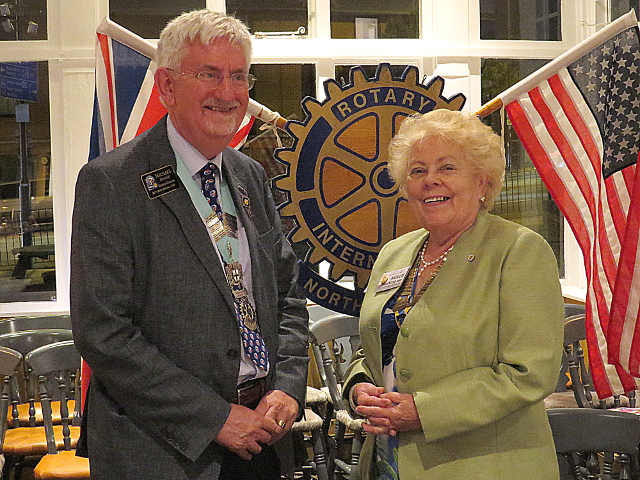 The room was full on 06 September 2017, when we had a visit from our District Governor. Also in attendance were Mrs Governor, Debbie Hodge from the Rotary Club of Ware who is currently President Elect of Rotary International in Great Britain and Ireland, and Helen Perkins, President Elect of the Rotary Club of Wednesfield, near Wolverhampton.
Before the Governor's address there was talk of a Vocational Service visit to the Postal Museum at 15-20 Phoenix Pl, London WC1X 0DA, which includes access to the postal underground which ferried post under the streets between sorting offices in London.
DG Mike then gave his "short address" to the Club which he described as an oxymoron as no District Governor had ever been brief!  After acknowledging the Past District Governors in the Club, he launched into the Rotary International Corporate Plan, describing it as Projects, Publicity and People – the 3 Ps.
Projects reflect that Rotary is a Service Organisation, not just a fundraising charity, and DG Mike gave examples of some of the work the Club is engaged in. Publicity has changed in recent years and now focuses on Social Media, where Rotary needs to be 'shouting' as loudly as the other organisations in our field. And good publicity is one route to getting more people involved with Rotary, which in turn allows more projects and so on – a virtuous circle.
DG Mike asked the Club to support his own personal initiative of Memory Cafés and Dementia Clubs, and described his own family's experience, emphasising the relief for carers as well as the benefit for the sufferers.
He thanked the Club for its support for the Rotary Foundation, and asked the Club members to be advocates for all that is good in Rotary in the District.  He then spoke on Branding, on Polio Eradication, Rotary Club Central, the Rotary Showcase, the Commonwealth Secretariat Project, Rotary Leaflets and Rotary Postcards.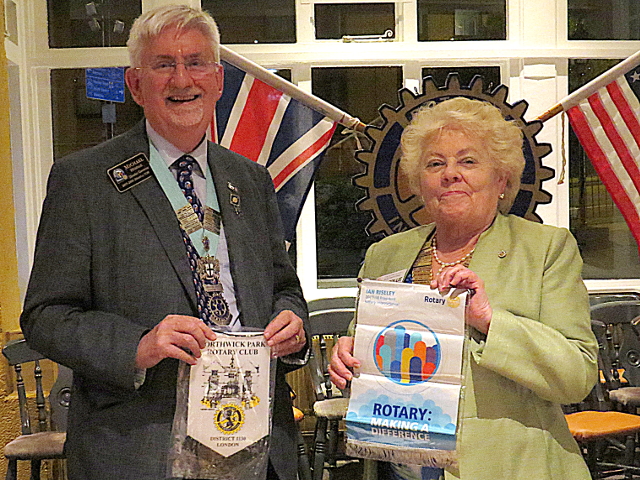 Our vote of thanks was given by President Mollie, who then exchanged banners with DG Mike.