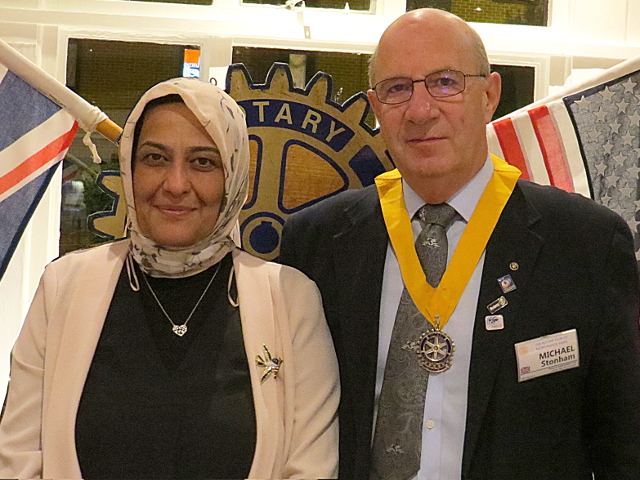 With our Club President tied up with a Town Council Meeting, and our President Elect away in France, it fell to President Nominee Mike to take the chair for our meeting on 21 September 2016, World Peace Day.
Our speaker was Ummi Merali – a Muslim who is a child psychotherapist and also a lecturer on matters to do with Islam and the Muslim faith at the mosque in Stanmore, North West London.
Ummi talked about the Holy Quran and the covenant with Allah (or God) to pray 5 times every day, and the requirement to fast for a month every year.  The purpose of the month of fasting is to break any bad habits that may have developed, and return to the true course of Islam.  She also spoke about the obligation to do a Hajj at least once in one's lifetime.
Ummi also tackled the less comfortable aspects associated in the minds of some with Islam, including the different dress codes for men and women, and the excitement of wearing a burka – because no one knows what you are wearing beneath it!  Ummi described the recent change in atmosphere in the city she visits regularly in the USA.  Her daughter, who lives in the USA, has had to resort to removing her headscarf before travelling on public transport.
She also taught the Club Members the correct way to say 'Hello' and 'Good-bye' to a Muslim.  There were many questions at the end of her talk including the obligations on Imams, the dress code, religion and control of the people, speaking in public and inclusivity.
Thank you Ummi for speaking to us on World Peace Day – you are a great ambassador for both peace and your religion.