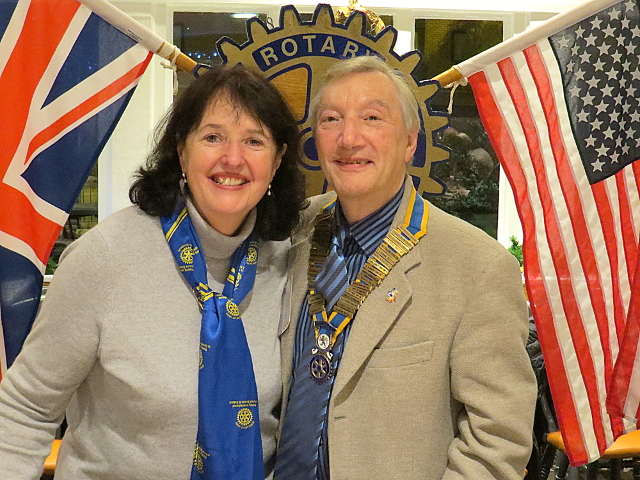 Our speaker on Wednesday 23 November 2016 was Rotarian Caroline Evans from the Rotary Club of Norwich St Edmunds in Norfolk.
However, before the talk the Club had to deal with some difficult news.  Firstly we heard of the passing of Past President and Founder Member Derek Vobes.  Derek had been Company Secretary for Wembley Stadium – our national football stadium – and he served as Club President in 1994-1995.  He had retired to the Isle of Wight. Our thoughts and prayers are with his widow Audrey and his family.
We also learned that another member of the Club had been rushed to Northwick Park Hospital over the weekend as he was having difficulty breathing.  Matters are reported to be a little better now and we all wish John a speedy recovery.  Bob's health also continues to improve.
Then we had our talk from Caroline Evans who recently completed a Master of Arts degree in Contemporary Art.  Being a practical MA, Caroline had produced a canvas – 2.5m x 1.5m  – that represented the environment she saw around her in Norfolk. Being a contemporary art degree, an element of technology had to be included, and she accomplished this by photographing the canvas 'confronting' its environment is a series of locations.  The photos were then assembled into a video loop and submitted to the exhibition prepared by the class of students.
Caroline's description of the different strands in contemporary abstract art was lucid, entertaining and informative.  In describing the other works by her fellow students, she managed a tour of art in fabrics, in computer generated images, in bronze casts, in fashion photography, in sculpture, in paper and in light.
This was a talk that was enjoyed by all those present and can be strongly recommended to Rotary Clubs around London.