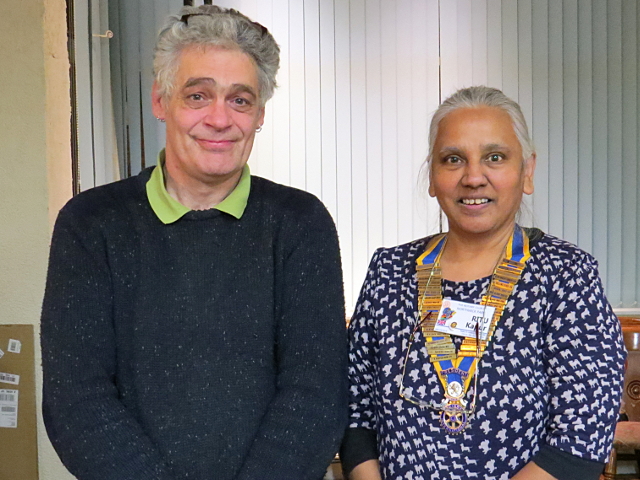 Our speaker on Wednesday 20 January 2016 was Steve Porter, of Third Sector Potential. But before he spoke we had a lot of business to get through including news of members, of former Youth Exchange students and their university prospects, the prospect of a new Rotaract Club in Harrow, and the health of members who have been absent.
Steve Porter than gave a talk divided into two parts.  The  first part dealt with the current organisation of the voluntary sector.  There is money available, Steve explained, but it has moved from being based on aims and policies of organisations to measurable outcomes to be achieved with the money.  He estimated that there are some 700 voluntary endeavours in the community, but many were too small to be able to assemble the required paperwork necessary for a successful application for voluntary funds.  Consequently, the bodies are now organising as a Community Interest Company – 3rd Sector Potential(TSP) –  a 'Not-For-Profit' in the sense that any profit made must be returned to the community.  Once organised, policies and procedures can be shared, and TSP can apply for block grants and share the block grant between its members who have made a bid.  Trading skills and resources between member organisations is encouraged, and a newsletter lets members know what opportunities are going to be coming up in the future.
The second part of the talk dealt with the organisation of volunteers.  TSP receives requests for volunteering opportunities from about 1,000 people a quarter, and at present they are able to place 2/3rds of these requests.  Steve was sure that there were lots of other requests that are not seen by TSP.  Using Community Champions, the plan is to provide opportunities for the volunteers.  Using Community Clicks and Time Banking, the volunteers can offer services and receive services from other volunteers.  Steve gave many examples of this working, including Fruitables, Community Dance and the Community Hardship Fund.
The projects have to be Sustainable, have to be based on a Worthwhile activity, and deliver Measureable Benefits into the community.  Sounds a awful lot like Rotary and the rules for Rotary Foundation Grants to us!  Thanks Steve for a detailed talk that covered a lot of ground in a short period of time!