On Saturday 26 September 2015, our Contact Club in Italy organised a visit to Expo 2015 in Milan.  With an early start (06:45) we were on our way in a coach to the exhibition site where we arrived at about 11.30am.  Having been turned away from our planned car park, we were driven to the far end of the parking location – nearly an hour's walk from the exhibition!
The crowds at the exhibition were extraordinary – an estimated 250,000 people on the day of our visit.  With a central avenue some 1,600 metres long, we knew we would be doing a lot of walking.
There were parades in the central avenue to watch as well as vertical fields showing how space can be used to best advantage.  The crowds were so massive that the queues of people waiting for visits to the pavilions were intimidating.
The Ecuador Pavilion had a long queue, but the queue was entertained by dancers and members of the public performing a dance to celebrate the Blue Foot Booby that lives on Galapagos, complete with blue flippers!
Some pavilions were posting notices of the waiting time for a visit, as shown here on the Japanese pavilion. Even so there were mirrors at some pavilions to entertain the visitors and to give the chance for a selfie!
Sadly, Rotary International was not represented in the section for Civil Organisations, but there were several Rotarians visiting the exhibition apart from ourselves. Other service clubs were also present!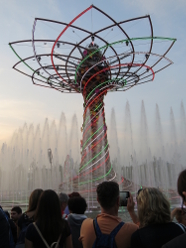 Our visit concluded with a sound and light show around the Tree of Life which was impressive.  We then walked back to the coach in the car park and set off our our four hour trip back to our hotel.  We arrived back at 01.30am making it a long but memorable day.
Our sincere thanks go to the members of our Contact Club Sacile Centenario for their wonderful hospitality and their hard work in organising this wonderful visit. Our thanks also go to our driver Mario who took great care to guard our safety on the trip.  The theme for the expedition was Energy and Food for Humanity – both concepts which are closely aligned with Rotary's mission to provide betterment for all mankind.  If you missed the trip, you can still visit the pavilions (without the queues) by doing a Google search for "expo 2015 pavilions videos" and select the "videos" option to filter the list. EXPO 2020 will be in Dubai.