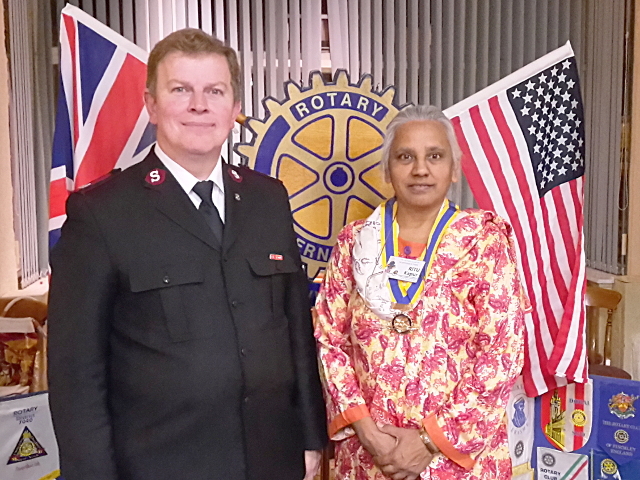 Our exciting and entertaining speaker on Wednesday 7 October 2015 was Nigel Schultz, a major in the Salvation Army and a member of the Rotary Club of Barking.  Nigel also holds office as Rotary in London's Environment Specialist.
After telling us a little about the Salvation Army, and his role in the Salvation Army, Nigel got down to the question of our Environment, and the difference our attitudes and actions can make to the London environment and the world's environment.  His talk was a clever mix of causes – concerning our environment – and programmes all Rotarians can follow that will ensure that we change our attitude to our environment.  At the heart of his talk was a ten-step list of things Rotarians can easily and simply do for the environment.
To list the ten steps would steal his thunder at other Clubs, but his list varied from less than pennies (for example re-using vehicle tax disc holders) to pennies (by the mile) to bio-diversity to vehicles and house construction!
What was a surprise was the number of club members with gardens that are not making their own compost.  Composting is nature's own recycling programme, speeded up with some low-tech scientific knowledge, and delivering a bonus in terms of fruit, vegetables and flowers within a year.
Litter and food waste were also dealt with in some detail, again with a series of practical steps.
Well done Nigel for your inspiring talk which held us all in your thrall.  It is now down to us to put your ideas into action.