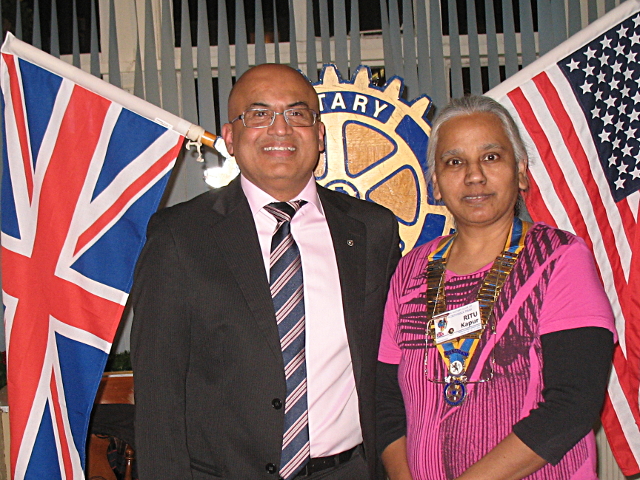 Our speaker on Wednesday 02 December 2015 was our own Pankaj Chahwala who entertained us with his life story.  Also with us for the evening were Arnold and his family, as well as our Honorary Member Melvyn.
We also had a visitor that had been recommended to us, Ishrat, who turned out to have a famous sister, but more of that later!
Pankaj talked about his arrival in the United Kingdom, back in 1964, having come from Gujarat in North West India where the family were tea merchants.  The voyage had left a lasting impression on him, especially as the liner only served English food.  The ship had arrived in Liverpool, and Pankaj is a Liverpool FC supporter to this day.  The family then moved to Leicester where he grew up and decided to become a teacher.
Pankaj moved to London to start his teaching career in Hackney, but lived in Dollis Hill in North West London.  He then moved to various schools in Brent, and decided to live in Kenton in 1997, only to find a former teaching colleague was the son-in-law of his next door neighbour – our Honorary Member Melvyn!  His career took him into Business Studies and he rose to Head of IT & Business Studies before taking retirement.
His travels around the world included an adventure in an Air Ambulance in Australia, but nowadays in his spare time he volunteers with the NSPCC in the Schools Service arm.  He joined our Club on 14 September 2014.
Our visitor Ishrat has a famous sister.  Pictured below, second from the left is Dr. Hashrat A. Begum, of the Rotary Club of Dhaka North West, in Bangladesh, who has implemented several large-scale projects to deliver health care to poor and under-served communities.  The picture was taken at the United Nations in New York, where Dr Begum was honoured by Lakshmi Puri, Assistant Secretary General, as one of six Global Rotary Women of Action on 7 November 2015.  We were honoured that her sister was at our meeting and forward our thanks to PDG Mohammed Ali of the Rotary Club of Brigg (between Grimsby and Scunthorpe) for recommending us!