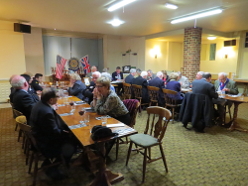 Our meeting on 14 January 2015 was all about getting back to business. Members had a short slot for fellowship, and catching up on news, as seen above before the reports started.
We had welfare reports on the members who are not in the best of health at the moment, on visits to other Rotary Clubs, including a highlight on different approaches to be found. Our Secretary gave a 'memorable' report including the correspondence received since Christmas. The Treasurer also gave a memorable report.
Our opening meeting on 28 January received some attention, and the selection of videos to be shown was agreed. We were updated on our Sports activities, including the Ten-Pin Bowling on Sunday 25 January and on the London-wide Rotary Quiz.
We had reports on Community projects, on Vocational visits, and a progress report on the clothing collected for our International liaison with the Revival Centre in the Ukraine.
We had a breakdown of the funds raised by the Club over the Christmas period, and a detailed analysis of the foreign coins donated by the public (all of which have found a charitable home). The chocolates donated to the Club ended up with the Welldon Activity Group. The Club voted against holding film nights at our London HQ in York Gate.
On the Youth front, the competitions are moving forward, and interviews for Youth Exchange programmes and camps are progressing. We finished with a quick review of Rotary Scholarships offered by the Rotary Foundation, news of a weekend away being organised by former members, and lastly a course on Negotiation on 21 January 2015.