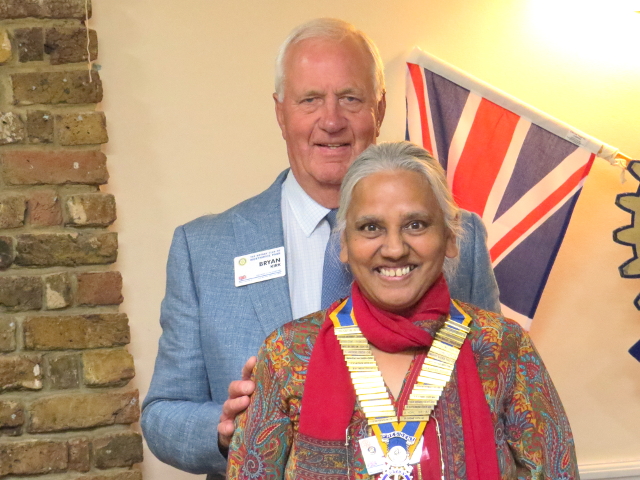 Every July in a Rotary Club, the jobs and the officers change. Our club is no exception to the rule, with President Bryan winding up the year 2014-2015, and Ritu opening her account for the year 2015-2016 at our meeting on 24 June 2015.
Bryan thanked all the members of the Club for their support and hard work and then took us through the year with a powerpoint presentation that included a reference to "Life of Brian" and the song "Always look on the Bright Side of Life". It is only when we look back on a year like this that we come to understand just how much work and how many enjoyable events the Club has involved itself with over the past 12 months. As this year's handover is a little earlier than in some years, we have yet to see the RIBI Handover and the District Handover (which is now sold out!).
Bryan then presented the Club trophies to selected Club members:
In a moment, President Bryan had placed the Presidential Collar on Ritu and the club had a new President. With Secretary Lucille, Treasurer June, and Immediate Past President Bryan, the formalities were done. Sadly President Elect Eric and President Nominee Mollie were both too unwell to attend the event.
President Ritu then gave her inaugural address, thanking her Rotary colleagues for their support. She spoke about her goals for the year which included strengthening the bonds with the Community, planting more crocuses, increasing membership and developing new fundraising activities. The support for Felsted Aid will continue, and Youth would get extra effort, hopefully developing a new competition – Rotary Young Artist. Ritu also wants the Club to work on setting up a new Interact Club or a new Rotaract Club. Her two chosen charities for the year would be "Kids Can Achieve" and "Harrow Carers Youth Service".
President Ritu then invited members of the Club to attend the Minibus Send-off at York Gate on Saturday at 10.30am, and called on the Club for support for the visit to Expo 2015 in Milan with our Contact Club Sacile Centenario. And with that, we had a new Club President, a new programme and a new Rotary Year. Well done President Ritu!