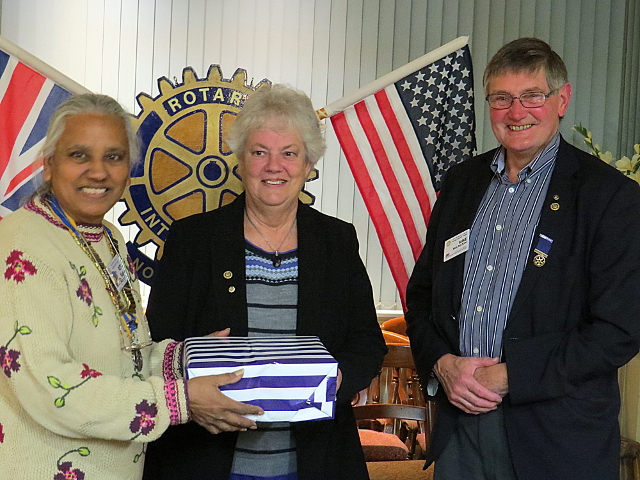 At a busy meeting dealing with the Club's Projects on 14 October 2015, it was time to say farewell to our former Club Treasurer and Club President Mike Billington.  Many members of the Club have fond memories of Mike's evening as President, with Barry Cryer, as our speaker, celebrating 100 years of Rotary in February 2005. We are sad to see him go.  President Ritu presented a memento of his time with us – a pair of engraved wine glasses which we suspect will be well used in his new home near Winchester.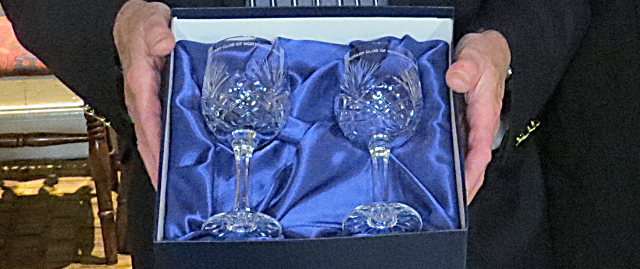 On the Community front, the North London Disability Games were judged a success again. We have permission to plant our purple crocus corms at Northwick Park Hospital, and the Club will be supporting the Trussell Trust's Food Bank Collection at the start of December.
We discussed a Community Library with an After-School Club project in South Africa, and decided that support should be given.  The Club will be supporting the Rotary Foundation Appreciation Dinner, and also our Bagel Brunch on 15 November.  The Club also discussed a proposed nation-wide project to celebrate 100 years of the Rotary Foundation.
Our new member Siva will be joining Rotarian Pankaj on our Youth Services Committee.
We also had balance reports for both the Club's Trust Fund and the Clubs Funds, and we received the accounts for 2014-2015.