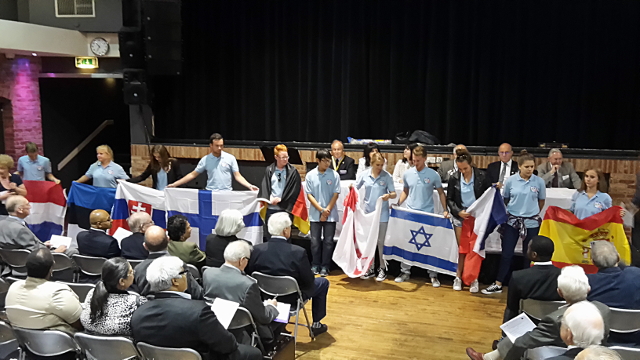 On Wednesday 22 July 2015, our Club was split – not by their opinions but physically by their obligations at two meetings.
At the first District Council meeting of the new year, District Governor Toni Finkel was inducted by out-going DG David Palmer. Although this had happened at the District Handover on 4 July at Porters Park Golf Club, it is our tradition to repeat the exercise at our District Council Meeting. At the meeting, the Rotary in London Youth Camp (see photo above) made an appearance with their national flags – 11 countries are represented with one young person from each country (Croatia, Estonia, Finland, France, Germany,  Israel, Netherlands, Poland, Slovakia, Spain, Taiwan). There were a number of announcements including a revised system for booking York Gate for meetings, and a plan to distribute the District Notices directly to Club Rotarians in the District.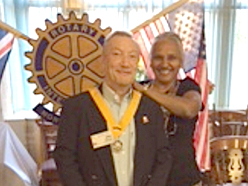 Meanwhile, back in the Club, our President Elect, Eric was inducted by President Ritu. Eric has been seriously ill for several weeks, and we were delighted to see him return to our meetings. There was discussion about our Garden Project in Northwick Park Hospital, confirmation of our International Lunch event on 16 August 2015 at Helen, confirmation of the Macmillan Coffee morning on Thursday 24 September at Lucille, and an invitation to an event being organised by the Rotary Club of Pinner to hear a special speaker on Tuesday 29 September at Pinner Hill Golf Club. We also heard that a request for a bed for a toddler had been delivered.
President Elect Eric then chaired a discussion on "We cannot cope if we are not on-line!", a topic that cunningly identified the nerds and the dinosaurs amongst our members!