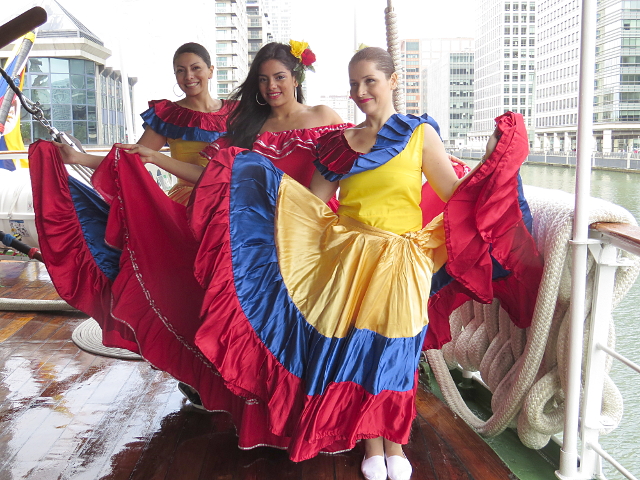 It was Latin American Music to the fore when members of the Club made their way to the West India Docks on Saturday 5 September for a surprise visit to a sailing ship.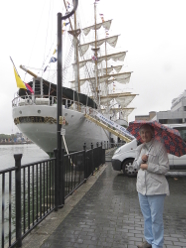 The Ship is the ARC Gloria, and we now know that ARC spells Armada Republica de Columbia – the Navy of the Republic of Columbia. The Gloria sails the seven seas with officer cadets who are studying for their degree so that they can graduate as officers in the Columbian Navy.  They study every day on board whilst the ship sales across the oceans of the world. After a visit to Edinburgh, the Gloria arrived in London on Thursday 3 September and departs on Sunday 6 September, after a quick loop through Tower Bridge.
The Gloria also acts as a Rotary Goodwill Ambassador for the Rotary Club of Cartagena in Columbia, and a banner from the Columbian Club was presented during our visit on Saturday.
In addition to a guided tour of the ship by an officer cadet, we were treated to Columbian Coffee, and a private audience with the Captain Reynaldo Espinosa. Captain Espinosa has been most impressed by the friendliness of the Rotarians he has met, and announced that once his travels are complete. there is a strong appeal to joining a Rotary Club!