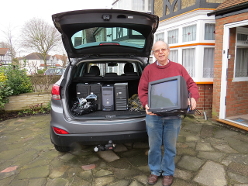 Another load of computers make their way to ComputerAid International for re-use in schools in Africa on 20 February 2015. Although this photo shows a traditional monitor (CRT – cathode ray tube), we learned that ComputerAid International is no longer accepting these devices for shipment overseas.
The computers are firstly cleared down by our Club Webmaster, and are then cleared down a second time by ComputerAid International staff, who then issue a certificate that all the data has been removed.
If you are in North West London and have some computers that you would be willing to re-cycle to schools in Africa, but you want a local Rotarian to clear them down thoroughly first, please contact our webmaster using the link below.